We are a group of producers of organic pomegranates with certification of the Committee of Ecological Agriculture of the Comunitat Valenciana (CAECV) of the Baix Vinalopó and neighboring counties that we commercialize our products together for years.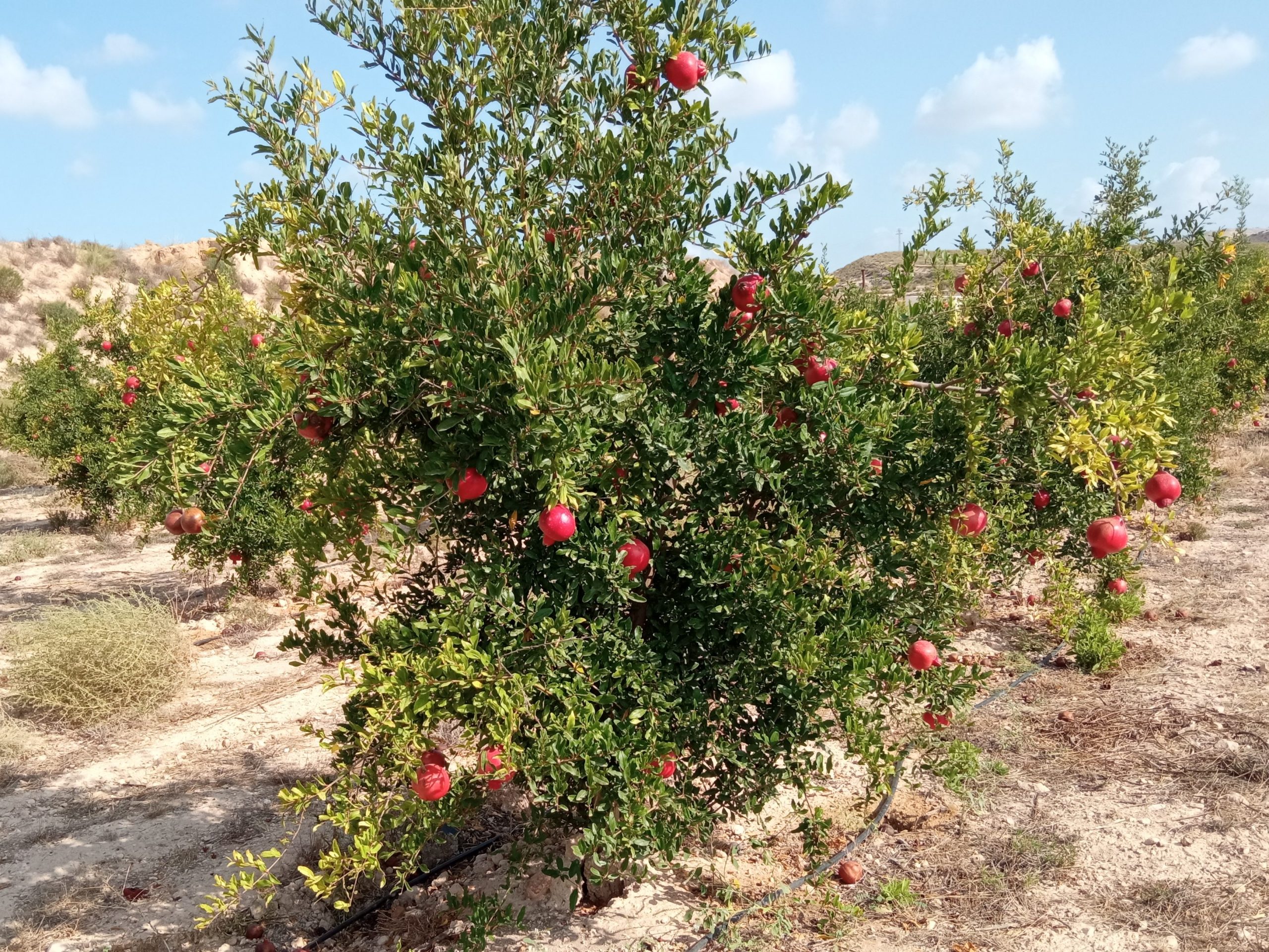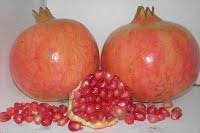 In 2020 we became the BIOGRANA Agricultural Transformation Society to improve the production, processing and marketing of organic pomegranates certified by the CAECV.
Our goals are:
The production and marketing of organic pomegranates.
Have the appropriate technical means to condition, pack and market.
Ensure production scheduling and its adaptation to demand, especially with regard to quantity at each moment of the campaign, without compromising quality.
Encourage the concentration of the offer and the placing on the market of the production of our farms, offering products of proximity and in good conditions of conservation.
Reduce production costs and regularize production prices.
Encourage cultivation practices and production and management techniques that respect the environment, especially to protect the quality of water, soil and landscape, to preserve and enhance biodiversity.
We have freshly cut or preserved pomegranate in cold rooms that we can serve from October to the end of the year.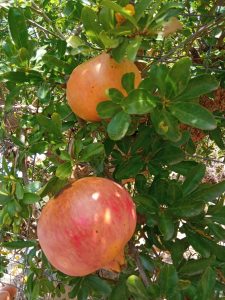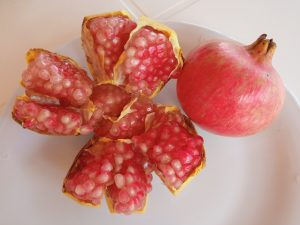 Our production is located in the south of the province of Alicante. We package and market it directly from the tree so that the processes and time are short and the product arrives fresh until consumption.
Varieties we offer
Mollar
The Mollar Pomegranate is traditionally cultivated in the Camp d'Elx (located south of the Valencian Community) and is protected by the Denomination of Origin (DO) Granada Mollar Elche.
The soils and light provided by the hours of sunshine in these latitudes result in pomegranates with lots of juice and especially sweet, rich in minerals and vitamins.
Its shape is rounded (medium-large calibers) with its characteristic crown. The external color is yellowish red and the interior color is light red. The skin resists handling well.
The grain stands out for its exceptional sweetness together with its edible seeds, smaller and softer than the rest of the varieties.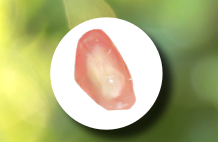 It is harvested in October and can be kept for up to 4 months.
ACCO
The ACCO pomegranate is a variety native to Israel.
One of the most outstanding characteristics is its prompt harvest since it is a variety of pomegranate whose fruits are ready to be harvested from mid-August to mid-September.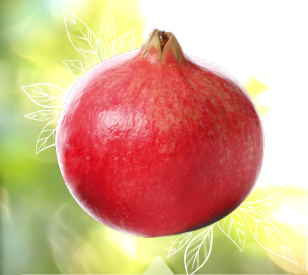 Its shape is rounded with a closed crown. Very uniform intense red external color over the entire surface and dark red internal color.
The ACCO pomegranate grains have a sweet taste with slightly acidic notes and its seed is semi-soft.

It is harvested in mid-August and September and can be kept for up to 2 months.
Wonderful
The Granada Wonderful is a variety native to California or Israel.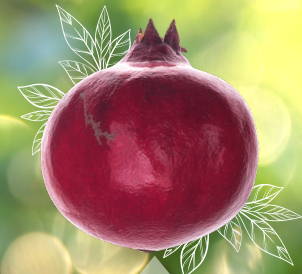 It should be noted of this variety its size, unlike the others it is notably larger, with a very intense red color and acid taste which translates into a greater amount of antioxidants.
Its shape is rounded with an open crown. Very intense red external color in its exterior and interior area.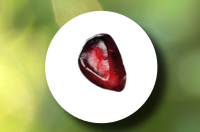 The grains of the Wonderful pomegranate are slightly smaller than the rest, with an acid flavor and a hard seed.
It is harvested from the end of September to the end of October and can be kept for up to 4 months.

Formats we offer
Calibers
Caliber 8: Pomegranates over 500 gr. Diameter 11 cm. or more
Caliber 10: Pomegranates from 410 to 490 gr. Diameter from 8 to 9 cm.
Caliber 12: Pomegranates from 330 to 400 gr. Diameter from 9 to 10 cm.
Caliber 15: Pomegranates from 270 to 320 gr. Diameter from 8 to 9 cm.
Caliber 18: Pomegranates from 200 to 260 gr. Diameter from 7 to 8 cm.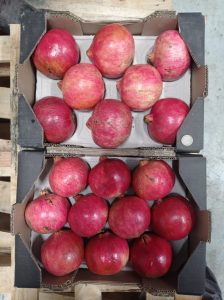 Cardboard container (box)
Dimensions: 40x30x18 or 40x30x23 cm.
Net weight of the box: 5-6 Kg.
Tara of the box: 400 gr.
For other box sizes, please contact us.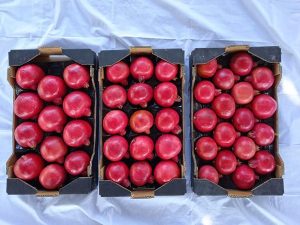 Pallet
Dimensions: 100 x 120 x 245 cm.
Volume: 2,94 m3
Boxes per pallet: 168 units
Complete pallet net weight: from 900 to 1100 Kg.
Europallet
Dimensions: 80 x 120 x 144 cm.
Volume: 1,38 m3
Boxes per pallet: 79 units
Complete europallet net weight: from 425 to 505 Kg.